CUSTOMS SUPERVISION & COMMAND CENTER
State-level
Strong Supervision
Speedy Response
Customer Value:
A Centralized Supervision Center
A Command & Dispatching Center
A Centralized Inspection Center
A Data Storage Center
An Audit Center
An Integrated Risk Management Center
An Unified Compatibility Data Platform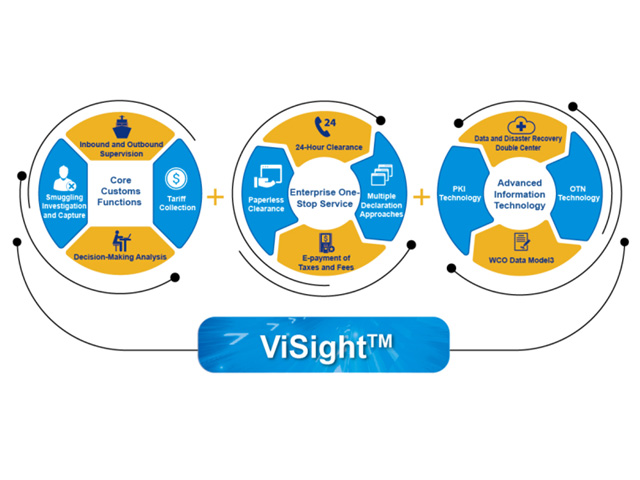 Solution to State-level Customs Clearance Modernization
Drawing on 30 years' experience of China customs modernization construction, ViSight establishes a unified national customs E-clearance information operation platform as an overall solution to customs modernization to dissolve problems faced by national customs such as inbound and outbound supervision, tariff collection and smuggling investigation and capture in all directions.
Customs Container Logistics Surveillance System (E-Lock)
Customer Value
Transportation regulation: real-time view of tracking, and rapid response to such events as smuggling, forced unpacking, and illegal opening.
Efficient customs clearance: sharing of inspection information and smart linkage of checkpoints for improving customs clearance efficiency.
Special regulation: customized monitoring scheme for special items such as valuables and fragile items.
Reduced costs: optimizing such customs business process as cargo clearance, storage at bonded warehouse, and entry-exit to save the regulation costs for customs and transportation costs for enterprises.
Key Benefits
Real-time regulation: real-time view of vehicle tracking and real-time monitoring of the status of goods.
Multi-dimensional alarm: alarm of diverged route, alarm of forced unpacking, sensor alarm, and other multi-dimensional alarm
Multi-dimensional report: multi-dimensional analysis of violations, travel, and inventory l
Rich product line: a variety of intelligent security terminals
Image storage: support the storage of data and large files
Long duration: duration of up to 10-15 days each time
Extreme environment: used in heat, cold, and other extreme environments, and adapting to cross-regional environment
Application Scenarios
Customs transit and transit operations
Zone for special regulation (bonded area)
Other industries: the "Belt & Road" China-Europe freight train, petroleum and petrochemical, and bulk goods logistics
Customs Special Control Area Comprehensive Solution
What is SCA
Customs special control area is a closed area in which special customs supervision systems and policies are implemented for a country or region to attracting foreign investment, expanding export and promoting transit trade. SCA bears multiple functions which includes bonded warehouse storage, processing and manufacturing, international procurement, distribution and delivery, international transit, port operations, etc.
SCA Comprehensive Solution
Nuctech provides integrated comprehensive solution integrating hardware and software with high standard, high intelligence and high integration for SCA .
This solution integrating customs management system, enterprise business declaration system, container inspection system , container radiation detection system , in-transit supervision system, intelligent gate system and video monitoring system, and achieves high efficiency and comprehensive informationized management for enterprises, goods and vehicles in the zone, which helps to build modern intelligent customs and intelligent parks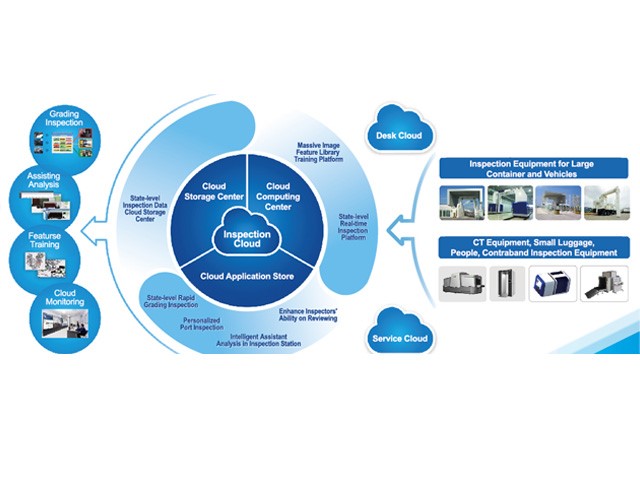 NCIP——Nuctech Cloud Inspect Platform
Cloud computing + big data + inspection business + intelligent analysis = overall solution of intelligent cloud inspection
By using advanced cloud computing, big data, and intelligent image recognition technology, coupled with customs data, it builds a national customs inspection cloud platform, unifies the storage of massive multidimensional data, and supports the experience sharing of image inspection among users. The multi-modal analysis model based on total amount of data is built to allow for high-concurrency, real-time processing of massive inspection data. It realizes intelligent analysis of scanned images, which can effectively support 100% fast inspection of national customs.
Key Benefits
Unified storage of mass data
100% coverage of inspection
Self-learning
Intelligent image analysis
Nationwide experience sharing of image reviewing
Centralized processing of multiple types of data
Security solutions for key facilities and core sites
Features
Technical architecture adopting the Internet of Things;
Seamless connection of X-ray security inspection equipment for cargo, baggage, goods, and humans, etc.;
Compatible CCTV, access control, traffic control, and other security equipment, as well as environmental monitoring equipment;
Supporting desktop, web, and mobile-side operation, providing a unified user-friendly interface.
Customer value
Break down Information Island to achieve integrated application of a variety of data, and tap the potential value of data.
Implement unified communications between isolated systems for timely and accurate transmission of information, assisting efficient joint decision-making.
Offer an array of terminal accesses and provide unified presentation. It assists mobile regulation and realizes fast response.
Application scenarios   
Perimeter security monitoring
Indoor location and tracking
Entrance/exit security check
360-degree video surveillance
Monitoring of regional environmental factors
Target customer groups
Airport
Port
Border defense
Prison
Chemical plant
Customs Border Modernization
What it is
Based on infrastructure construction, port modernization simplifies and enhances current exit and entry process and clearance procedure to improve port clearance efficiency; combines advanced security technologies to strengthen the whole-process supervision for customs clearance, transportation and so on to make the clearance convenient, intelligent and fast ; employs risk perception and emergency disposal mechanism to check each "risk" and "abnormality" to reduce risks, restrain illegal trade, improve border clearance efficiency and finally promote overall national competitiveness.
Customs Value
Monitor Illegal Trade
Centralized management and intelligent data analysis on national port data help to provide data for risk valuation and decision making to lower illegal trade level
Improve Clearance Efficiency
Automatic management and control of ports simplify foreign trade process and improve clearance efficiency
Whole Monitoring on Personnel, Vehicles and Goods
Establish operation and management mechanisms for personnel, vehicles and goods crossed at border inspection area , and employ a set of unified system to control all aspects
Enhance Integrity
Informationize business management and minimize human intervention to enhance integrity of customs officials